70′s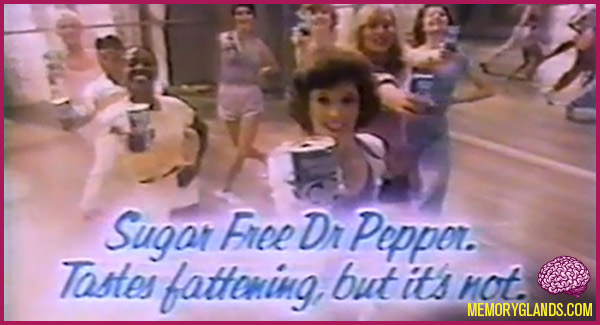 Dietetic Dr Pepper was introduced in 1962 (cans) and 1963 (bottles). Sales were slow partly due to the public misconception that the drink was for diabetics, and in 1966, the company renamed the product Sugar Free Dr Pepper. The name was changed to Diet Dr Pepper in 1987. In 1991, Diet Dr Pepper was reformulated to use aspartame, according to Cadbury Schweppes. Diet Dr Pepper, after posting a 6.4% gain in sales volume, became the 10th best-selling soda in 2006 according to Beverage Digest magazine. From 1991 to 2006, the beverage was marketed using the slogan "Diet Dr Pepper tastes more like Regular Dr Pepper." In 2006, a new marketing campaign was launched comparing the taste of Diet Dr Pepper to desserts instead of regular Dr Pepper with the slogan "There's nothing diet about it."
No Comments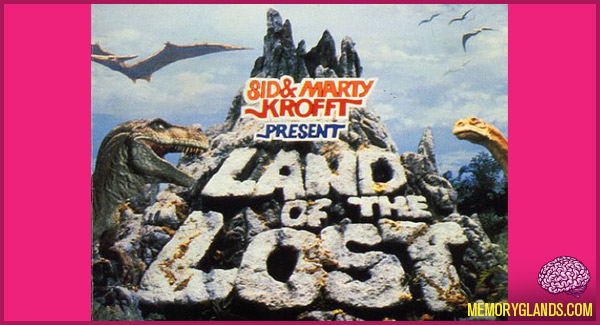 Land of the Lost (1974–1977) is a children's television series created by David Gerrold (of Star Trek: "The Trouble With Tribbles" fame) and produced by Sid and Marty Krofft, who co-developed the series with Allan Foshko. During its original run, it was broadcast on the NBC television network. However, it also aired in daily syndication in the early 1980s as part of the "Krofft Superstars" package. In 1985, it returned to late Saturday mornings on CBS as a replacement for the canceled Pryor's Place – also a Krofft production. It was later shown in reruns on the Sci Fi Channel in the 1990s. It has since become a cult classic and is now available on DVD. Krofft Productions remade the series in 1991, also titled Land of the Lost, and a big budget film adaptation was released in 2009.
1 Comment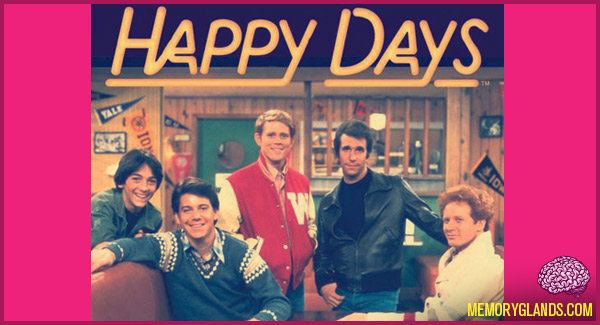 Happy Days is an American television sitcom that originally aired from January 15, 1974, to September 24, 1984, on ABC. Created by Garry Marshall, the series presents an idealized vision of life in the mid-1950s to mid-1960s United States. Click here to read more and watch the intro »
No Comments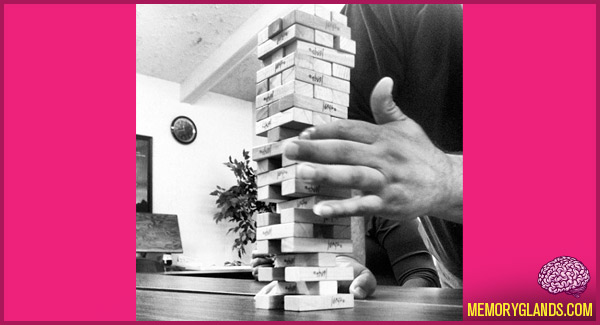 Jenga is a game of physical and mental skill created by Leslie Scott, and currently marketed by Parker Brothers, a division of Hasbro. During the game, players take turns to remove a block from a tower and balance it on top, creating a taller and increasingly unstable structure as the game progresses.
Jenga was created by Leslie Scott, the co-founder of Oxford Games Ltd, based on a game that evolved within her family in the early 1970s using children's wood building blocks the family purchased from a sawmill in Takoradi, Ghana. Though a British national, Scott was born in East Africa, where she was raised speaking English and Swahili, before moving to live in Ghana, West Africa. Scott launched the game she named and trademarked as 'Jenga' at the London Toy Fair in January 1983 and sold it through her own company, Leslie Scott Associates. The blocks of the first sets of Jenga were manufactured for Scott by the Camphill Village Trust in Botton, Yorkshire. The V&A Museum of Childhood has exhibited one of the original sets of Jenga since 1982.
In 1984, Robert Grebler, an entrepreneur from California who was the brother of a close friend of Scott, contacted her and expressed interest in importing and distributing Jenga in Canada. In April 1985, Grebler acquired from Scott the exclusive rights to Jenga for the U.S. and Canada, and then in October that year, Scott assigned the worldwide rights in Jenga to Grebler, which he in turn assigned to Pokonobe Associates. Convinced of Jenga's potential, Grebler had invited two cousins to form Pokonobe Associates with him in 1985 to increase distribution of Jenga. Pokonobe then licensed Irwin Toy to sell Jenga in Canada and to be master licensees worldwide. Irwin Toy licensed Jenga to Schaper in the U.S. and when that company was bought by Hasbro, Jenga was launched under the Milton Bradley banner. Eventually, Hasbro became licensee in most countries around the world.
Today, according to Leslie Scott, over 50 million Jenga games, equivalent to more than 2.7 billion Jenga blocks, have been sold worldwide.
Fun fact: Jenga is derived from a Swahili word meaning "to build."
No Comments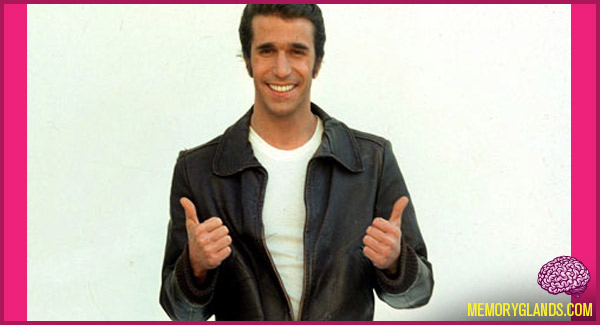 Arthur Herbert Fonzarelli (also Fonzie, The Fonz, or Fonz) is a fictional character played by Henry Winkler in the American sitcom Happy Days (1974–1984). He was originally a secondary character, but eventually became the lead. By the mid 1970s, he dwarfed the other characters in popularity.
In 1999 TV Guide ranked him number 4 on its 50 Greatest TV Characters of All Time list. Click here to see the Fonz in action »
1 Comment