70's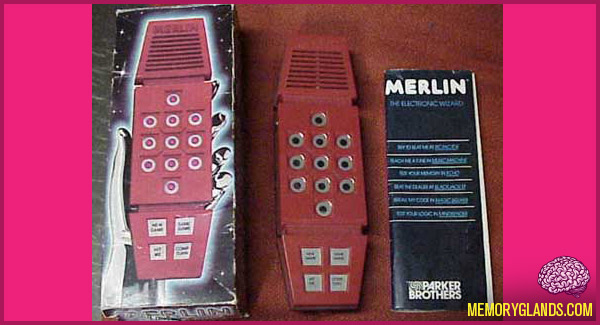 Merlin (sometimes known as Merlin, the Electronic Wizard) was a handheld electronic game first made by Parker Brothers in 1978. Merlin is notable as one of the earliest and most popular handheld games, selling over 5 million units during its initial run, as well as one of the most long-lived, remaining popular throughout the 1980s. A version of the game has been recently re-released by the Milton Bradley Company.
Merlin's simple array of buttons and lights supported play of six different games, some of which could be played against the computer or against another person. Here is the list of games that could be selected:
Tic Tac Toe, Music Machine, Echo (a game similar to Simon), Blackjack 13, Magic Square (a pattern game similar to Lights Out), and Mindbender (a game similar to Mastermind). Click here to watch a commercial »
No Comments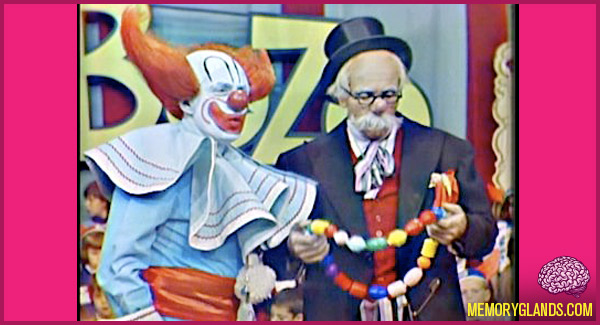 Bozo the Clown is a clown character very popular in the United States, peaking in the 1960s as a result of widespread franchising in early television.
Originally created by Alan W. Livingston for a children's storytelling record-album and illustrative read-along book set and portrayed by Pinto Colvig, the character became very popular during the 1940s and was a mascot for record company Capitol Records. The character first appeared on television in 1949. After the creative rights to Bozo were purchased by former Bozo actor Larry Harmon in 1956, the character became a common franchise across the United States, with local broadcasting companies producing their shows featuring the character; Harmon bought out his business partners in 1965 and produced Bozo's Big Top for syndication from 1966, while Chicago's Bozo's Circus which went national via cable and satellite in 1978. Click here to read more and watch a clip from the show in 1966 »
4 Comments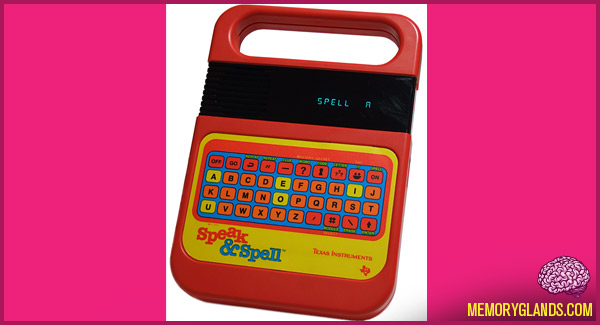 The Speak & Spell line is a series of electronic handheld educational toys created by Texas Instruments that consist of a speech synthesizer, a keyboard, and a receptor slot to receive one of a collection of ROM game library modules (collectively covered under patent US 3934233 ). The first Speak & Spell was introduced at the summer Consumer Electronics Show in June 1978, making it one of the earliest handheld electronic devices with a visual display to use interchangeable game cartridges. Click here to watch a commercial »
2 Comments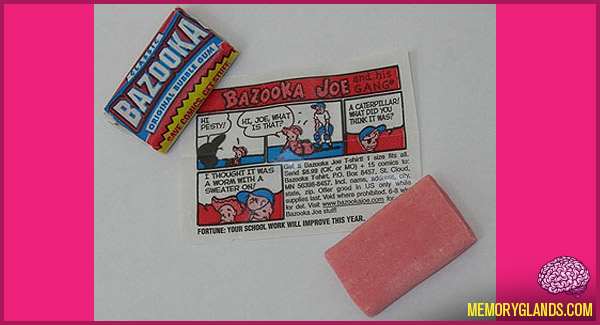 Bazooka Joe is a comic strip character, featured on small comics included inside individually-wrapped pieces of Bazooka bubblegum. He wears a black eyepatch, lending him a distinctive appearance. He is one of the more recognizable American advertising characters of the 20th century, due to worldwide distribution, and one of the few identifiable ones associated with a candy.
1 Comment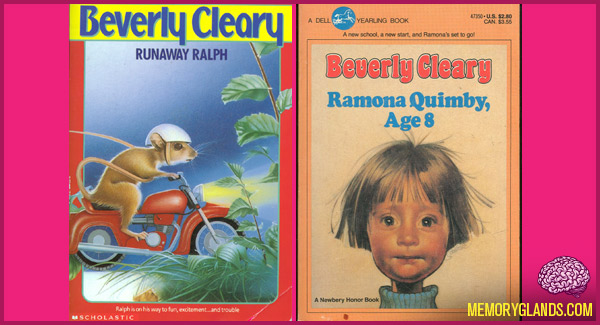 Beverly Cleary (born Beverly Atlee Bunn on April 12, 1916) is an American author. Educated at colleges in California and Washington, she worked as a librarian before writing children's books. Cleary has written more than 30 books for young adults and children. Some of her best-known characters are Henry Huggins, Ribsy, Beatrice ("Beezus") Quimby, her sister Ramona, and Ralph S. Mouse. She has won many awards, including the 1984 Newbery Medal for her book Dear Mr. Henshaw.
2 Comments
| | | |
| --- | --- | --- |
| | | |