70′s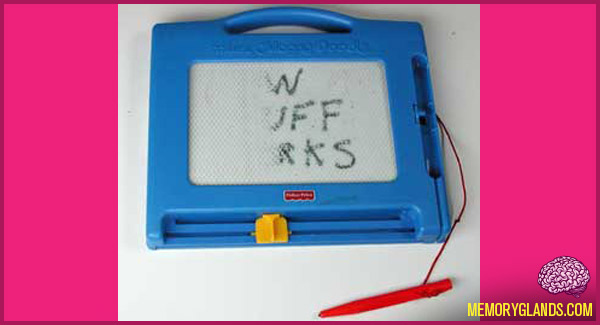 Magna Doodle is the original product name of a children's magnetic drawing toy, consisting of a drawing board, a magnetic stylus, and a few magnet shapes. Invented in 1974, over forty million units have been sold to date worldwide, under several brands, product names and variations.
The toy was originally produced as "Magna Doodle" by Tyco until 1998, when the manufacturing rights to most of Tyco's toy product line were sold to Fisher-Price. "Magna Doodle" is currently owned and produced by the Ohio Art Company, having formerly been distributed in the United Kingdom by Fisher-Price. Fisher-Price have produced their own alternative called the Doodle Pro. Click here to watch a commercial from 1992 »
3 Comments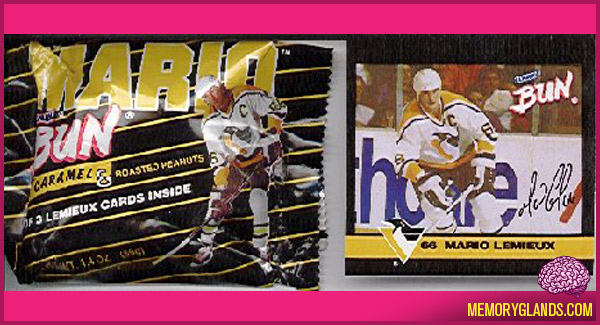 Bun Bars are a line of candy bars currently manufactured by Pearson's Candy Company of Saint Paul, Minnesota and available in the United States. Originally created in the 1920s by the Wayne Bun Candy Company and later bought out by Clark Bar, Pearson's picked up the brand in 1998. Pearson's acquired Bun Bars partially due the similarities in manufacturing the Bun as compared to their own Nut Goodie. While the two products are very similar, they still have recipe and ingredient differences that make each unique.
Bun Bars have one of three flavored centers (maple, vanilla, or caramel) covered in unsalted peanuts and milk chocolate. When first bought by Pearson's in 1998, maple and vanilla flavors were available, but later caramel was added to the line up. Despite the name, Bun Bars are not bars at all, but actually round, flat disks.
Growing up in Pittsburgh, we had Mario Bun Bars, in honor of Pittsburgh hockey great Mario Lemieux (pictured above).
1 Comment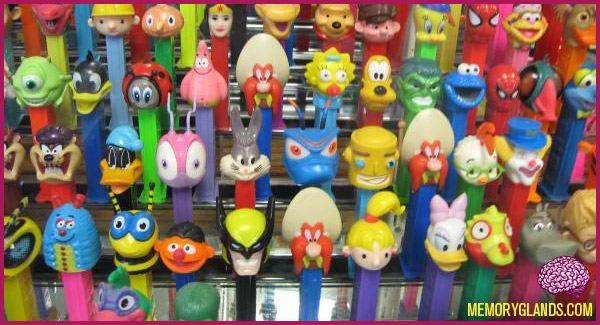 Pez (trademarked PEZ, in capitals) is the brand name of an Austrian confectionery and the mechanical pocket dispensers for the same. The confectionery itself takes the shape of pressed, dry, straight-edged blocks (15 mm (5/8 inch) long, 8 mm wide and 5 mm high), with Pez dispensers holding 12 Pez pieces.
The name Pez was derived from the letters at the start, the middle and the end of the German word for peppermint, Pfefferminz, the first Pez flavor. Pez was originally introduced in Austria in 1927, later exported, notably to the U.S., and eventually became available worldwide. The all-uppercase spelling of the logo echoes the trademark's style on the packaging and the dispensers themselves, with the logo drawn in perspective and giving the appearance that the letters are built out of 44 brick-like Pez confectioneries (14 bricks in the P and 15 in each of the E and Z). Click here to read more and see someone's serious Pez collection »
3 Comments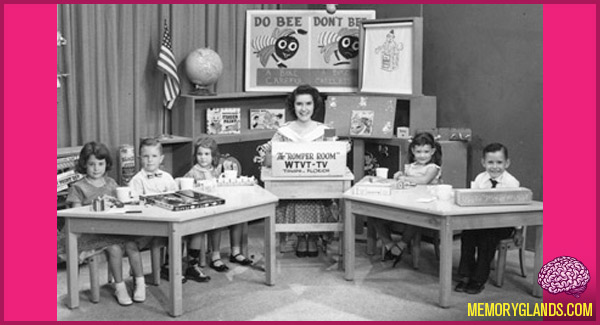 Romper Room is a children's television series that ran in the United States from 1953 to 1994 as well as at various times in Australia, Canada, Japan, Puerto Rico, New Zealand and the United Kingdom. The program is targeted at preschoolers, children five years of age or younger. Click here to see the intro from 1984 »
1 Comment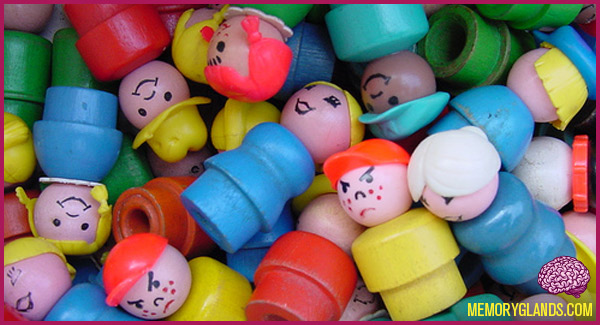 Little People is the name of a toy brand for preschoolers, originally produced by Fisher-Price in the 1960s as the Play Family. The current product line consists of playsets, mini-sets and accessories, books, CDs, and DVDs focusing on various configurations of five characters named Eddie, Sarah Lynn, Maggie, Michael and Sonya Lee. Click here to read more, see a photo of the family barn, and watch an old commercial »
6 Comments
| | | |
| --- | --- | --- |
| | | |