70′s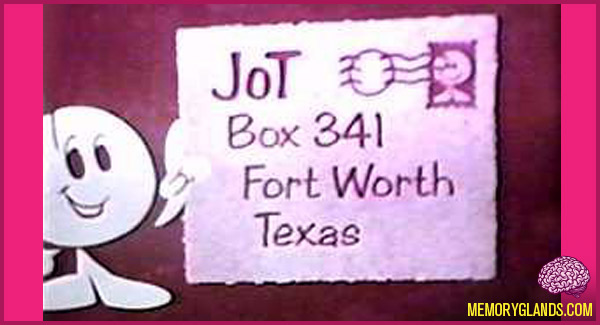 JOT (also known as JOT the Dot) was an American animated children's television program. The series consisted of 30 four-minute episodes, which were syndicated between 1965 and the 1980s. JOT was produced by the Southern Baptist Radio and Television Commission (RATC) as a Baptist version of Davey and Goliath.
The series was created by Ruth Byers, a graduate of Baylor University, and Ted Perry a writer at the RATC. Both had a background connected to the Dallas Theater Center, with Byers having been director of children's productions. The pair was commissioned by Dr. Paul Stevens, president of the RATC, to develop a television show that would provide simple moral lessons for young children. Production of the first episodes began in 1959, with the first episode released in 1965.
The style of the show was kept deliberately simple, both as a cost-cutting measure (the budget for the early episodes was never more than $25,000, and that amount dropped over time), and to prevent the design from interfering with the delivery of the message. The main character, JOT, is a white circle with simple facial features (similar to a smiley face), hands and feet. JOT's color and shape would change in response to the struggles presented. This was meant to represent changes in a child's temperament or emotional state, "somewhat like a thermostat," according to one critic.[1] His hands and feet are only seen when he is still; when he is in motion, they disappear. Jot would sometimes be accompanied by Tug (voiced by Ed Ruth), a "bad" character who would learn a moral lesson in the end.
The voice of JOT was provided by two different women, Lou Kelly (1965–1967, 1968 and 1981), and Colleen Collins (1967). The series premiered on Peppermint Place, a Sunday children's show produced locally at WFAA-TV in Dallas, and later on The Children's Hour on WBAP-TV (now KXAS-TV) in Fort Worth. The episodes were eventually sydicated throughout the world, translated into 19 different languages. They were also a favorite of Sunday School programs. The response to the program was a volume of over 175,000 letters from children, requiring a volunteer group from 22 churches to write responses.
The series remained in regular production until 1974. In 1981, several additional episodes were produced.
Episodes of the series can currently be seen on some episodes of Joy Junction, and JOT featured in the opening of the show. Joy Junction can be seen on Smile of a Child TV and other networks.
No Comments
The Oddball Couple was an animated half hour Saturday morning show that ran on the ABC TV network from September 6, 1975 to September 3, 1977. The show was a production of DePatie-Freleng Enterprises in association with Paramount Television and was an animated homage to the Neil Simon play-turned movie-turned hit TV series The Odd Couple, which was ironic because this series premiered the same year that the show to which it paid homage was canceled by ABC. The show initially aired at 11:30am ET the first season and was switched to 12 Noon ET the following season.
No Comments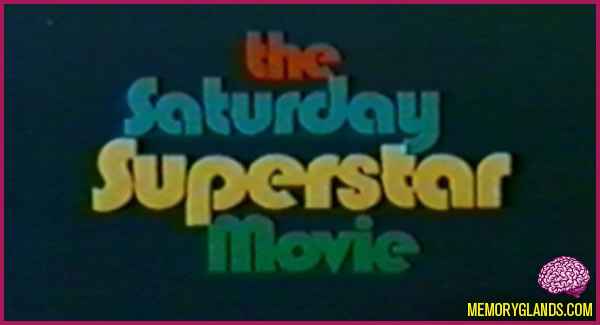 The ABC Saturday Superstar Movie — renamed The New Saturday Superstar Movie in its second season — is a series of one-hour animated TV-movies (some of which also contained live action), broadcast on the ABC television network on Saturday mornings from September 9, 1972, to November 17, 1973.
Intended as a "Movie of the Week" for kids, this series was produced by several production companies — including Hanna-Barbera, Filmation, and Rankin/Bass — and mostly contained features based on popular cartoon characters and TV shows of the time, such as Yogi Bear, The Brady Bunch, and Lost in Space. Some of the features served as pilots for new TV shows.
No Comments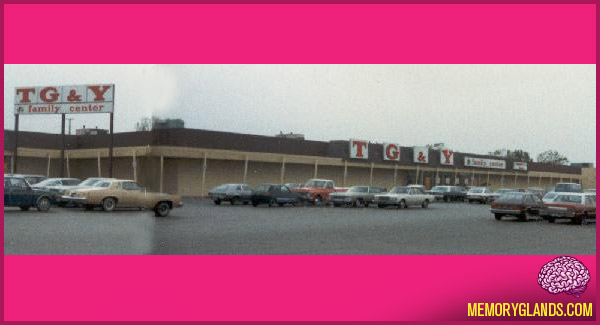 TG&Y was a five and dime, or variety store, chain in the United States. The chain was named for its three founders: Rawdon E. Tomlinson, Enoch L. "Les" Gosselin, and Raymond A. Young. The initials were ordered according to the age of the three, with Tomlinson being the oldest. Founded in 1935, the chain was headquartered in Oklahoma City. At its peak, there were more than 900 stores.
It was acquired by McCrory Stores in 1986, when it had about 720 stores. Shortly after McCrory's purchased TG&Y, that company cut over 8,000 employees and closed 205 stores, including 23 in its former home-state of Oklahoma. It did business under the TG&Y Family Center and later TG&Y Dollar and Aim for the Best and Dollar-T names as well.
TG&Y stores were firmly embedded in southern culture as modern-day general stores with a bit of everything, and often called by the irreverent monikers, "Turtles, Girdles and YoYos", "Toys, Goodies and Yummies" and "Toys, Gifts and YoYos". Near the end of its successful years, the chain used the advertising slogan, "Your best buy is at TG&Y."
In 2001, TG&Y filed bankruptcy and all stores were eventually closed.
4 Comments