70′s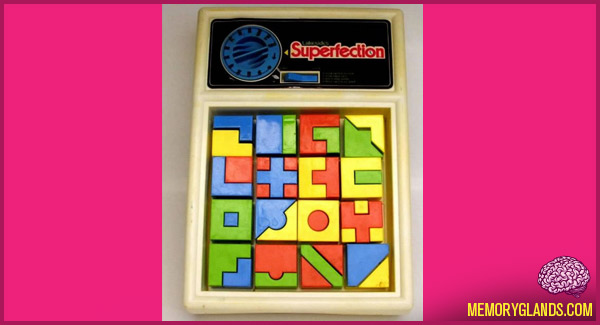 Released in 1975, the object Superfection is to pair geometric forms and then place the composite piece into the pop-up tray in the least amount of time. The pop-up tray is a 4×4 grid.
To start, mix and scatter the geometric shapes making sure that matched pairs are not together. Then turn the timer on and try to match the forms into pairs placing each completed pair on the pop-up tray.
When finished press the timer to stop it. However much time you have left is your score. If you fail to get all of the pairs collected the pop-up tray will pop-up throwing all the pieces out and giving you no score for the round.
1 Comment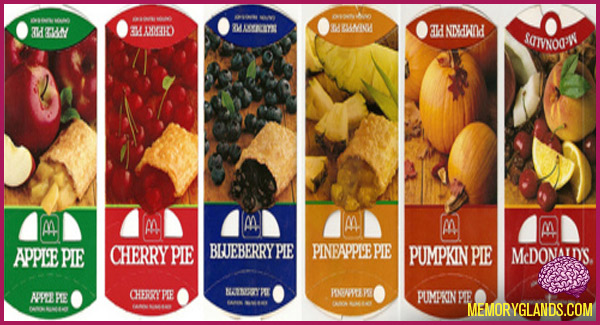 McDonald's pies are actually turnovers and come in apple or, in some markets, cherry and other seasonal or limited-time-only flavors such as pumpkin pie and Holiday pie, and in Hawaii, taro, haupia and banana. In Canada, in the 1970s, blueberry was standard, as was the Great Fruit Pie. During some seasonal promotions, cherry and strawberry are an available pie flavor in Canada; also, newly featured is Blueberry Maple and Peach. Currently McDonald's is selling raspberry pies, for a limited time. In Thailand and Guam, taro pie is featured occasionally. Other regional flavors include coconut and tuna (all in Guam as limited-time), and corn in Japan. In Mexico and Guatemala, cheese pie is available all year round. In Cyprus, strawberry and custard pies are available all year round also, along with the apple one. In Brazil, banana pies are available.
2 Comments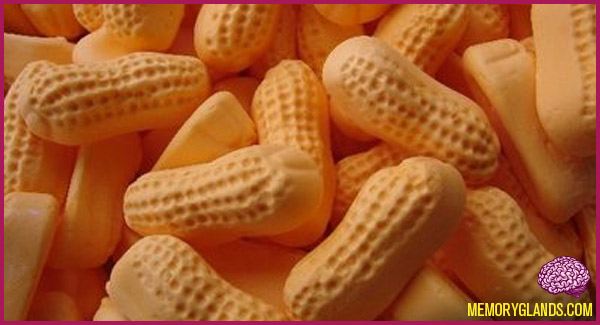 Circus Peanuts is a peanut-shaped marshmallow candy. Although the most popular variety of mass-produced Circus Peanuts today is orange-colored with an artificial banana flavor, confectioners originally distributed an orange-flavored variety that was only available seasonally due to a lack of packaging capable of preserving the candy; in the spring, five-and-dimes sold Circus Peanuts as penny candy. In the 1940s, Circus Peanuts became one of the many foods to become available year-round owing to the industrial proliferation of polyethylene packaging.
Today, mass-produced Circus Peanuts are made from sugar, corn syrup, gelatin, soy protein, food coloring and artificial flavor. Over the years, confectioners have also offered Circus Peanuts colored yellow, pink, and white, including a variety of flavors, though orange is still the most predominant color and banana the most common flavor, by far. The leading producers of Circus Peanuts are Melster Candies, Spangler Candy Company, and Brach's, but they produce an essentially identical product. Circus Peanuts sold in generic label bags in retail stores such as convenience stores, grocery stores, and drug stores are almost always manufactured by one of the three candy companies listed above, simply sold in a generic package. Publix stores sell generic Circus Peanuts under their own label, but they are manufactured by Farley and Sathers.
In 1963, General Mills vice president John Holahan inventively discovered that Circus Peanuts shavings yielded a tasty enhancement to his breakfast cereal. General Mills formalized the innovation and created Lucky Charms, the first breakfast cereal to contain marshmallow bits (or "marbits").
4 Comments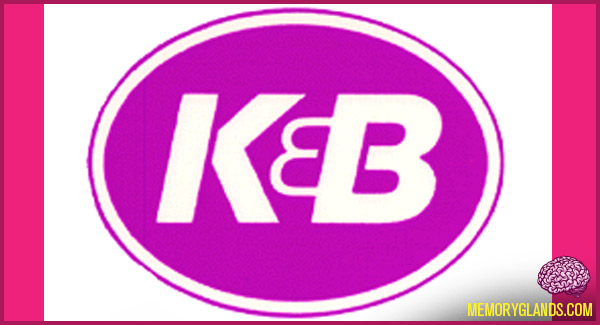 K&B (Katz and Besthoff) was a drug store chain headquartered in New Orleans. Founded in 1905, it expanded to have stores in the United States Gulf Coast region until it was purchased by Rite Aid in 1997.
Gustave Katz partnered with Sydney J. Besthoff at 732 Canal Street, New Orleans in 1905, and continually expanded through the 20th century to become a regional chain. It was well known for its unique purple color, with everything in the store (signs, cash registers, employee uniforms, etc.) being "K&B Purple". This color became well known as a descriptive term in the local lexicon – as one might describe something as "forest green", New Orleanians still describe a particular shade of purple as "K&B purple."
K&B had many of its own private label items, including household goods such as logo ice chests and garbage cans (in purple), its own liquor line with names typically beginning with the letters K&B and the YENDIS (Sidney spelled backwards)Liquor brand, and for a time a brand of beer. While the majority of K&B brand products were inexpensive non-descript products locally regarded as just above a generic brand, the line also included well regarded products such as the much beloved line of K&B ice cream; the distinctive K&B Creole Cream Cheese ice cream and it's "talking ice cream freezer display case" TV commercials were local favorites. K&B had its own credit card operation too and since its credit policy was so stringent it became a badge of honor to be awarded a K&B credit card.
No Comments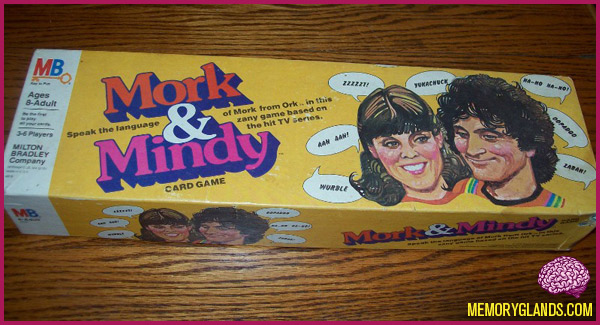 This game is based on the 1979-1982 ABC TV series starring Robin Williams.
From the rules:
"Meet Mork. He's from Ork, and he's come to Earth to learn all he can about our planet. To win the hearts of Earthlings everywhere, Mork has brought along this crazy Orkan game. In it, you and your opponents move around a special Orkan board doing such out-of-this world things as "splinking" and "grebbling up." All the while, you'll be trying to win coins called Grebbles. But don't panic. Mork and his Earthling friend Mindy will be there to help. So shake hands Orkan style, and begin!"
2 Comments